Professional Website SEO Audit Service
Find out why your SEO campaign isn't working and start getting better results!
What Is An SEO Audit? & How To Perform An SEO Audit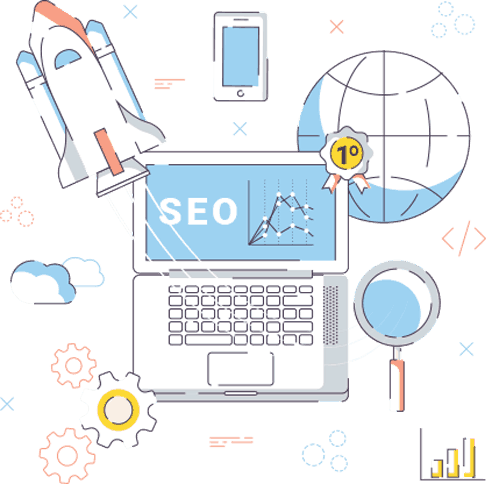 Search engine algorithms are being improved daily in order to display more valuable sites for searchers in the search results, so naturally the search rankings will change accordingly. In order to keep up with changes in search engines, we audit industry market trends and customer traffic on our customer sites.
An Search Engine Optimisation audit is a process of identifying the factors that may be holding your SEO performance back. It involves analyzing every component of an effective SEO campaign and presenting you with a roadmap for what you need to focus on.
An SEO audit is a digital marketing technique that checks for improvements to your website related to SEO and corrects those improvements to increase your website's organic search in search engines.
Why should you get an SEO Audit done?

Starting an SEO campaign without an audit is like building a house without a foundation. You need to know what you are working with and who you are up against before you can make any strategic decisions for your website.

When should you get SEO Audit done?

An SEO audit should always be done at the beginning of any new campaign, but it is a good idea to audit your existing campaigns at least every 3-6 months. You can also request for an audit by SearchCombat if you believe that your campaigns are underperforming.

What is your methodology to conduct an SEO Audit?

For the SEO audit service that SearchCombat provides, we will analyze the improvement points of your current website, and then summarize the internal measures and improvement points that are advantageous for your SEO measures in order of priority in the SEO audit report. For each page (URL), we will check the language settings and consistency of the URL, check the readability of the URL, title tags and description tags, check H1 tags and keywords in the page, check the speed of page loading, and summarize it into an SEO improvement report. We will report to you on the priorities for improvement, so you will be able to improve your website according to the report and update your website for better SEO.
Improve search engine visibility
Google alone has 2 trillion search queries per year. Every day, thousands and hundreds of potential customers search for the products and services you offer. By improving your visibility on search engines, many of these prospects will be able to find your brand.
SearchCombat understands web development expertise and how search engines work today, and develops SEO strategies that bring long-term growth to your business. You can keep track of their growth through our real-time and monthly reports. As search engine algorithms are evolving day by day, we will keep up to date with changes as we improve our rankings.
SEO Audits We Offer
We provide a Range of Audit Services to satisfy different requirements by our Clients. These include the following;
Technical SEO Audit Services
Backlink Audit Services
Local SEO Audit Services
Keyword Research and Analysis
What To Expect From the Audit?
SearchCombat has more than 6 years of experience and track record in web marketing, SEO strategy and SEO audit service. We have conducted SEO audits and SEO measures for homepages of various industries and scales, and have attracted various services seo customers.
Search Engine optimization is a time-consuming process, and if you make the wrong first move, you'll waste a lot of time. With SearchCombats's SEO Audit services, you can do your SEO work as quickly as possible without wasting time.
We will send a Video report of your Audit that will show you all the issues related to your website in a 20-30 minute Video. Contact us for a Custom Quote.
Things That Set Off Your Website's Success Online
Keyword Research & Strategy
A detailed analysis of targeted KWs based on Search intent and their likelihood of ranking in SERPs during the audit process. Prioritize, update/revamp your current content to consolidate existing targeting and attract more traffic.
Competitive Analysis
Marking out competitors for better positioning & targeting depending upon your current standing in the niche. We make sure to help you identify opportunities to better your competition with improved Content Strategy & search visibility during the website audit.
Technical Audit
Often neglected, Technical SEO is critical when you competing for the top rankings. Our SEO company is apt at knocking off any technical issues that may impact user experience, Site SEO and jeopardize your campaign success.
SILO & Architecture
An optimized Site architecture helps in better crawling & indexing in addition to seamless user experience. Mapping a better silo structure conducive to user engagement and conversion is our priority
Content Strategy & Marketing
Thorough content planning to keep you ahead of your competition & feed your audience with your niche relevant information to build up an effective funnel. We can also set up Email/Newsletter for your prospects.
Backlinks Strategy
Link Building happens to the most crucial factor for organic rankings. You get a detailed reports on your current backlink profile along with a dependable Offpage Strategy that can help you get instant rankings.
Be on the Top & Get More Traffic to Your Website
The following services explain how we approach SEO for a range of common purposes:
Increased SERP visibility & Maximized Conversions
Improved User Experience & Engagement
Custom Plan for Content Improvement & Link Building
Numerous Check Covering All SEO Areas
Change The Way You Market Your Business!!
Our Packages
Pages

White Label Report

Action Sheet

Consulting Hours
What Client Says About Us
While we find the ultimate gratification in achieving pre-deterined goals for every campaign and every client, yet their accolades are something that encourage us to strive hard to continue doing the great work.
Kasem Bajwa
SearchCombat has been a great resource for our SEO campaigns. Their trained team capable of doing great work & produce results for our local clients.

Karl Hirsch
I highly rate SearchCombat for doing what they claim they are going to do...with excellence. Their communication & knowledge is great! They are professional and highly responsive. Highly recommend. Highly trust.
Jordan Vellutini
I can't think of a bigger "no-brainer" local optimization service to utilize than SearchCombat. Just do it! There's no possible way you can lose. In fact, you're losing out by not using this fantastic service!