The best image databases (some of them Are free)
Images are essential for any website.

They breathe life, convey emotions, and loosen up extensive contributions in the right place.

There's only one problem:

Finding suitable pictures is not that easy. In addition, there are pitfalls with image rights that can quickly cost you expensive warning fees and damages.

But don't panic!

In this article, I will introduce you to the 30 best image databases. 22 of them are even free!

And I'll show you step by step how to use images in your blog in a legally secure manner, how to recognize and avoid potential dangers.
1. Free image databases for public domain images
Here you can find all the free photo services for public domain images. 
In the public domain means that they are free of the usual copyright restrictions:
They can be used free of charge
You do not need to name the author
You can edit them
Images can be used for commercial and non-commercial purposes
But be careful. Even if you are relatively free to use the images, you always have to pay attention to a trademark or personal rights.
In addition, the use is often not completely free of conditions. Some image services are prohibited from selling the pictures or using them as part of your picture service, So please always look at the license in detail before using a picture.
Pixabay

Pixabay is one of the largest providers of free images.
The image database contains over 1.7 million Images, including numerous videos and vector graphics.
There is something for everyone!
Benefits:
Gigantic selection of very high quality pictures
Use of all images without naming names and sources
Very good filter function
Images can be downloaded in various formats
Display of camera data for each picture
Disadvantage:
When downloading by unregistered users, a captcha query takes place
Rights are not always clarified beyond doubt, as anyone can upload on the platform
Advertising for paid services is sometimes not easy to distinguish from the free images
Unsplash

Unsplash was launched in 2013 as a Tumblr block, and today the platform offers thousands of high-resolution images.
The focus here is clearly on quality and less on quantity.
Every week, new images are added to the database, which mainly consists of landscape photographs.
Benefits:
No registration necessary
No naming necessary
Very high quality images from top photographers
Clear category structure
Disadvantage:
Only professional pictures, no snapshots
no graphics
Pexels
Pexels offers you images and videos for free download.
Even if the number of around 40,000 media is currently relatively manageable, the database is growing by several thousand images per month.
The license terms state that all images and videos can be used free of charge and without attribution.
Benefits:
Pexels wordpress plugin available
Rapidly growing range
Combination of model photos and snapshots
No registration required
Disadvantage:
Small selection compared to other platforms
Picjumbo
The quality of the pictures that Picjumbo offers is really sensational.
In particular, the shots in the food area and the landscape photographs are guaranteed to inspire you.
All images can be used privately and commercially without naming their names.
Benefits:
Very high quality images that are often only found in premium databases
Download in very high resolution possible
Unrestricted access even without registration
Clear sorting in categories
Disadvantage:
Numerous images can only be used as part of a premium variant
KaboomPics

KaboomPics is a free image database from Poland, which is especially interesting for lifestyle bloggers and designers.
Here you will find high-quality images that no other platform has to offer.
You can download all images without registering and use them for private and commercial purposes without naming them. You can find out more about the license terms.
Benefits:
High quality and above all unique images
Sorting by subject area
Matching HEX color codes are provided for each image
Different image formats available
Disadvantage:
Selection so far manageable
SplitShire

On SplitShire, you will mainly find pictures with an artistic background.
The platform won't appeal to every blogger or website owner, but it does offer you snapshots of a special kind.
You can also find high quality videos on the platform.
The license conditions allow free use without naming any name.
Benefits:
High quality pictures with artistic demands
Clear presentation in categories
No registration needed
Disadvantage:
Hardly any natural snapshots
Character of the pictures sometimes very special
Realistic shots
Realistic Shots is constantly being expanded with 7 new images per week. The database is not very large but mainly offers great nature photos. Blogger and designer Henry Reyes supervises the project.
Images are downloaded directly without registration and free of charge. Attribution is required.
Benefits:
Fast access, no registration
Great nature shots
Personal attention from professional photographers
Disadvantage:
Very manageable selection
Missing filter function
Slow growth
Stockpic
Ed Gregory started the free image database Stockpic in 2014. Here you will find around 1,000 free images, which are expanded by 50 new copies every month.
The platform specializes in snapshots from everyday life.
Benefits:
Free use without reference to the source
Very natural images
Disadvantage:
Missing SSL certificate
Lots of Google Ads
Small selection
Freeography

Gratisografy provides photos of a different kind. Crazy, extraordinary but definitely with the potential to make your blog readers laugh. Not everyone will find it here, but the image database deserves a closer look.
You can use all images for free and without citing the source.
Benefits:
Special, unique pictures
Well sorted categories
Disadvantage:
Small selection in the three-digit range
Missing filter function
Pictures only suitable for special niches
Stocksnap.io
Stocksnap.io is probably one of the fastest growing free image databases.
Hundreds of new images are added to the platform every week. Here, you will find high-quality stock photos and snapshots from "real life" that seem less posed.
All images can be used for private and commercial projects. Attribution is not required. Read more about the license here.
Benefits:
Rapid growth
High quality images from different areas
good filter function
Disadvantage:
So far, a manageable selection
Reshot
Reshot focuses on snapshots that each of us could have on our smartphones.
The pictures seem natural and not posed. You will usually look in vain for classic stock photos.
Free download, no attribution, and 100% usable without registration.
Benefits:
Very natural images
Rare pictures
Disadvantage:
No photos for everyone's taste
Relatively small selection
Foodiesfeed
Do you own a recipe blog or do you love to report on healthy eating?
Then Foodiesfeed is the right address for you. Here you will find high-quality images on everything to do with food, drink, and nutrition.
All images are clearly sorted according to categories. Pizza, coffee, meat – you're sure to find what you're looking for right away.
Benefits:
Free download,use without attribution
No registration required
Very specific imagery
High resolution
Very professional recordings
Disadvantage:
Very bad German translation of the site
With only 1500 pictures very small selection
Lifeofpix
Lifeofpix mainly concentrates on landscape and architecture shots but can offer very high quality here.
It is unmistakable that professional photographers took all pictures.
Benefits:
Simple licence : Free use without citing the source
Very high quality architectural recordings
Free videos included
Search function for photographers
Disadvantage:
Small selection
Missing filter function
FOCA (MMT Stock)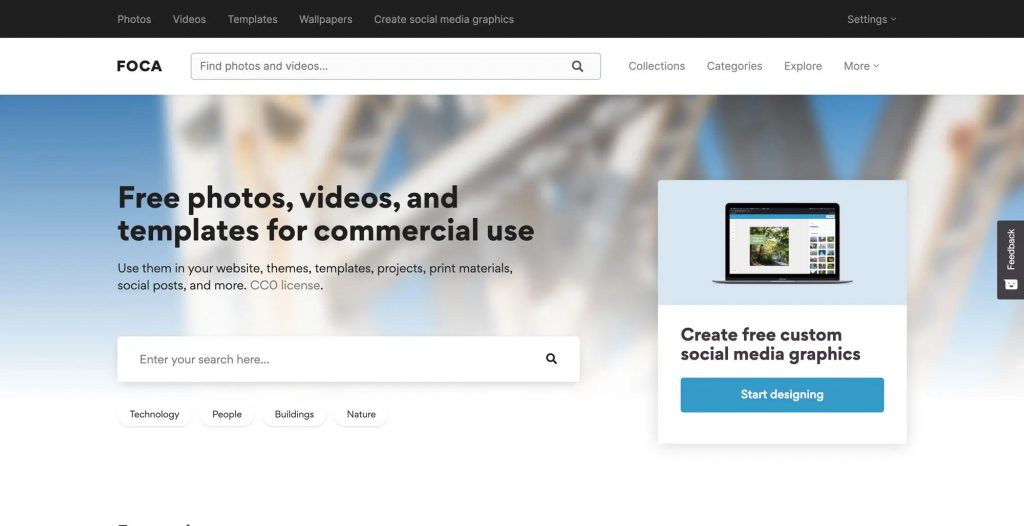 FOCA (formerly MMT Stock) is the photo portal of photographer Jeffry Betts.
Here you will only find his personal snapshots and recordings. In addition, the FOCA editor is provided free of charge, with the help of which you can create social media graphics directly.
Despite their top quality, all images are free and may be used without citing the source.
Benefits:
High quality photos directly from the database operator
Integrated image editor
Clear categorization
Filter function
Disadvantage:
Images are mixed with paid media
So far very small
Styled stick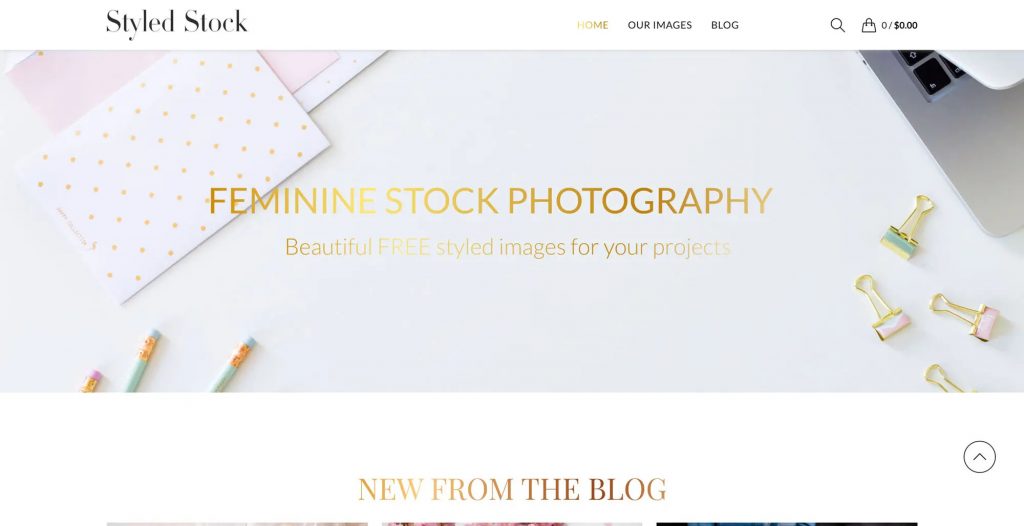 On Styled Stock you will only find pictures with a feminine character. So it is perfectly suited if you are targeting women specifically with your blog.
The same applies here: 100% free of charge, no picture credits required.
Benefits:
Very specific niche
Customized by colors, design and theme for women
Supplementary blog with great content
Disadvantage:
Search results mixed with paid premium images
Small and manageable selection
2. Free image databases with conditions
Freepik
Freepik not only focuses on images but also offers you high quality illustrations. The quality of the free media is sensational.
Caution: In order to be able to use the media offered free of charge, it is essential to link to the source. Free use, yes, but only with a link to Freepik. If you want to do without it, you should opt for Freepik Premium.
But more on that later.
Benefits:
Freepik offers high quality free illustrations
No registration needed
Very good filter function
Disadvantage:
Use of free media is only permitted with reference to the source
Wikimedia Commons
Wikimedia Commons is Wikipedia's media database.

Here you will find over 60 million files such as images, videos, or audio files. The selection is growing steadily.
Although all files in the Wikimedia Commons database can be used free of charge, you should still note some special features. Some of the images are marked as public domain (CC0). The naming of names is therefore omitted when used.
Other images, however, require attribution (CC BY) and a link to the original file. So here you have to place a note directly next to the integrated image.
Benefits:
Gigantic selection
Many different products
Images with a scientific background
Disadvantage:
Very confusing set of rights
No classic stock photos
Many images that are additionally protected by trademark rights
Pixelio
With almost 100,000 photos, Pixelio is a rather smaller image database, but you can still find high-quality photos for numerous projects.
All images on Pixelio can be used free of charge, but only with reference to the source. Image editing rights are also often restricted.
Benefits:
Good sorting function by date, relevance or ratings
Saving images in the "lightbox"
Advanced search allows you to further refine your query
Disadvantage:
Use only with registration
Use of the images only with reference to the source
Partially restricted image editing rights
Piqs
Piqs is the image database of the lawyer Christian Solmeke, whom you may know from his YouTube channel. The legal background is palpable, as a lot of information about image rights can be found in addition to the media.
The quality of the recordings ranges from bad to very good.
If you want to use images, you have to register and specify Piqs as the image source.
Benefits:
Legally sound information on images
Large selection
Disadvantage:
Anyone can upload. The quality is often poor.
Registration and attribution required
PhotoPin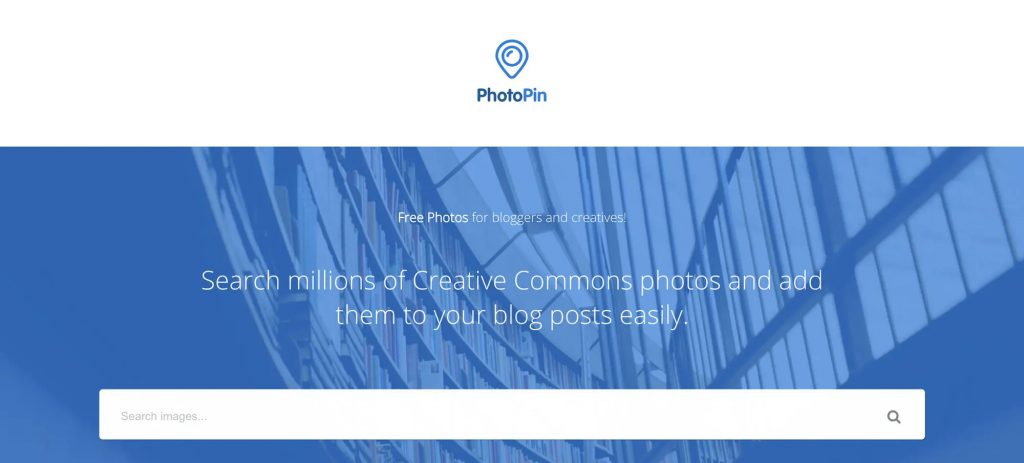 PhotoPin uses the Flickr API to search millions of Creative Commons images. Accordingly, a picture credit is required for each image. However, the associated HTML code is made available to you when you download an image.
Benefits:
Download without registration
Gigantic selection
License notice is generated during the download
Disadvantage:
Partly opaque image rights
Differentiation between private and commercial usage rights
Flickr

Flickr is one of the largest image databases around.
How many pictures are available here can hardly be determined.
An example: The database spits out over a million hits when searching for "car" alone.
What is problematic, however, are the complicated image licenses. Flickr makes a lot of distinctions between private, commercial, changes allowed, etc. As a rule, the Creative Commons licenses apply here.
A source is always required.
Benefits:
Huge database
Great filter function
Disadvantage:
Complex image rights
Registration required
500px

500px offers a wide range of high quality images from professional photographers.
However, you should be careful with the license types, as many distinctions are made here.
Benefits:
Large selection
Very professional pictures
Disadvantage:
Not all images are subject to the same license type
Missing filter function
Registration required
3. Premium image databases
Freepik Premium
I've already introduced you to Freepik.
The database is also available with premium access, giving you access to several hundred thousand other graphics and eliminating the need to cite the source.
Benefits:
Access to over 6 million graphics
No photo credit required
Download limit increased from 10 to 100
Disadvantage:
 
Depositphotos
Deposit photos offer 149 million files. Including high-quality pictures, graphics, film material, and much more. You can gain access either by purchasing individual licenses or as part of a subscription.
Benefits: 
Great variety of products
Huge database
Transparent pricing models
Easy to understand licences
Frequent discount campaigns via the newsletter
Great filter function
Disadvantage:
Clear distinction between standard and extended license
Adobe Stock
Adobe Stock offers you a huge selection of high-quality photos, illustrations, vectors, videos, and 3D models. With the acquisition of the Fotolia platform in November 2019, the selection was expanded again.
You have the choice between a subscription model or the purchase per download.
Benefits:
Flexible pricing
Very large selection
Various media available
Free test possible
Disadvantage:
Partly complex license structure with various restrictions.
Shutterstock
Shutterstock has 215 million royalty-free images, vectors, illustrations, videos, and music available to you. In addition, the platform even provides "free pictures of the week".
The prices are humane: With the purchase of an image, you acquire the standard license, which you can expand at any time if necessary.
Benefits:
Huge selection that hardly any other platform offers
Plugins for Adobe, PowerPoint or Google Slides
Excellent sorting function
Humane prices
Transparent and easy to understand license
Free "Pictures of the Week"
Free trial subscription
Disadvantage:
You'd really have to look for the fly in the ointment here
iStock
iStock (service from Getty Images) offers you access to several million different media such as images, videos, or illustrations, which you can purchase from as little per license (equivalent to 1 credit). Subscription models are also available.
When it comes to the images' quality, a distinction is made between "Essentials – Low Price" and "Signature – Best Quality".
If you choose a signature picture, up to 3 credits may apply, which would correspond to a retail value. This makes the platform comparatively expensive.
Benefits:
Large selection from millions of images
Transparent pricing models
Simple licence structure
Plugins available for Dropbox and Adobe
Every week you will receive a randomly selected picture for free
Disadvantage:
High quality pictures comparatively expensive
Getty Images
Getty Images is certainly only suitable for real professionals.
The prices are sometimes astronomical, especially for high-resolution images.
The license structure is also a bit complex.
Benefits: 
Large selection of highly professional photographs
Apps and WordPress plugins available
Disadvantage:
Very expensive and only suitable for professionals
Complex license structure with many restrictions
VectorStock

VectorStock is not a classic image database. Here you will only find vectors, infographics, and illustrations.
However, the database is huge and provides access to over 18 million files. Purchases are made prepaid or as part of the monthly subscription, which starts at $ 49.
The licenses differ between "Standard" and "Expanded". Your later use is important here.
Benefits:
Very affordable price
Large selection
Great filter function
Disadvantage:
Designs that belong together are sometimes not displayed together
Deathtothestockphoto
Deathtothestockphoto offers high quality images at affordable prices.
Smaller companies pay $ 12, larger companies have to pay $ 21 per month but are then given unlimited access to the image database.
Images are produced individually on a monthly basis. So no classic stock photos.
Benefits:
Very high quality pictures
Free 14-day test possible
Free pictures as part of the newsletter
Simple licence structure
Disadvantage:
No access to the database without membership
4. What do I legally have to pay attention to when using the images?
There is hardly a topic as complex as using images on your blog.

The legal conditions are extensive and sometimes confusing.

For example, there may be potential dangers lurking in free images that are sold under the CC0 license.

No picture is free of rights per se.

Here are the four rights that are affected when using images:


Photographic works, i.e. images, are protected by copyright according to Section 2 of the Copyright Act. This also applies to snapshots on the smartphone.

The moral rights and exploitation rights are protected.

The author of a picture can decide whether his picture is reproduced, distributed, or edited. He can allow parts of the use and prohibit other parts.

Anyone who violates the author's conditions is committing a copyright infringement that is subject to a warning.
According to the Basic Law, every person has the so-called "right to one's own image".
Means: Pictures may not be distributed or displayed without the consent of the person being photographed.
So if you post a picture of a person, you need to obtain their permission previously. For photos of persons under 18 years of age, the legal guardians are to be contacted here.
In technical jargon, one speaks of "model release".
You can see what a model release contract looks like using the example of Shutterstock.
In the case of premium databases, personal rights are generally not a problem, as the relevant contracts are concluded before the images are published.
You should definitely take a closer look at free image databases. When in doubt, it is better to avoid pictures that show a person.
If you violate personal rights, you are committing a criminal offense under the Art Copyright Act.
Exceptions are:
People from contemporary history

Pictures in which the person appears only as an accessory

Pictures of meetings or events (overview recordings)
The rights of third parties may be affected in pictures.

An example:

Have you ever noticed that the Apple logo on a MacBook is always defaced in TV series?

The problem here is that the Apple logo is a sign that can be clearly assigned to a brand. This symbol may only be used in commercial transactions with the consent of the copyright holder.

If you do not have this consent, there is a threat of a warning.

In the case of purely private use, there is no need for consent.

Caution is advised here, especially with free image databases that allow anyone to upload media. You can find the best evidence here.

The MacBook Pro shown there would only be allowed in this form in business dealings …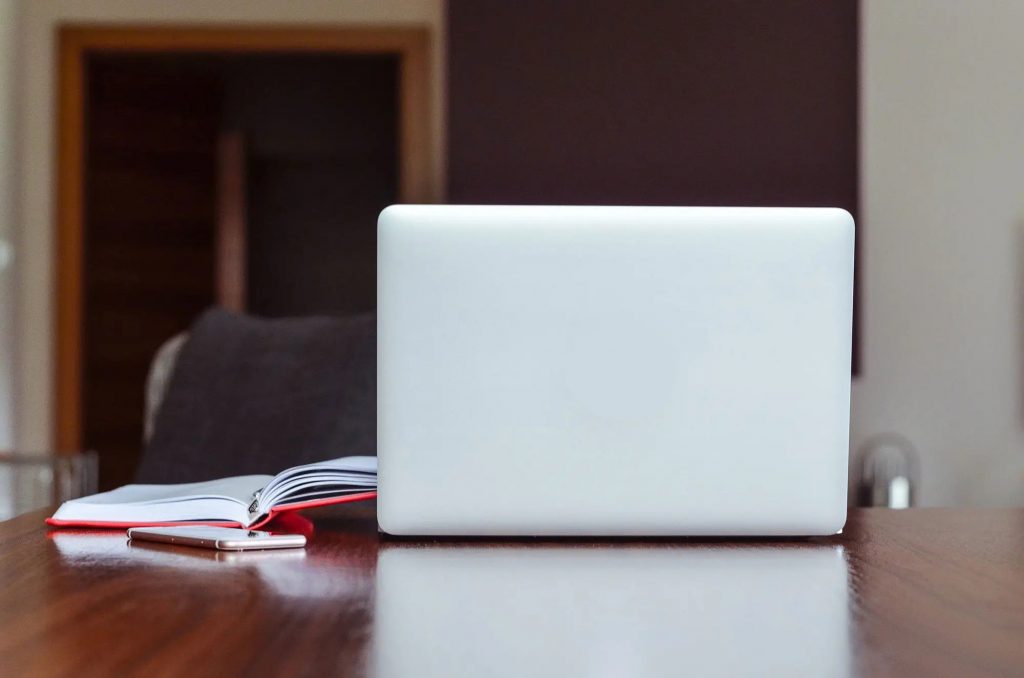 So you should examine every image you use carefully for logos, company names, or other parts that could possibly be protected.



Distribution rights regulate the legal relationships between the supplier and buyer when selling goods and services. In our case between the photographer and the platform and later between the platform and you.

Here, too, you should pay close attention to what a platform regulates in detail, what is allowed, and what is prohibited.

Here is an example of what is and what is not allowed at Pixabay:


A look at the license agreement is always advisable!


5. What image licenses are there?
5.1 What is an image license?
A picture is found very quickly on the Internet.
However, if you want to use this later and not just view it, you must observe numerous image rights.
A picture also has one owner and, under certain circumstances, several rights holders .
For example, these rights holders can decide whether an image:
may be distributed at all
may only be used for private or business purposes
in which form and in which media an image may be used
in what number of pieces a use is approved
Here is an example of the Deposit photos licenses:


In this chapter, I would like to show you which licenses you should definitely pay attention to
5.2 Possible restrictions on usage rights
The simple or exclusive right to use 
If you are allowed to use an image, that doesn't mean that you can do everything with that image.
A distinction is made between two terms:
Simple right of use: You may only use an image in the way permitted by the author. This can also grant other people a simple right of use.

The exclusive right of use: You receive the sole right of use, unrestricted in terms of time and content, to a picture. The author may not allow anyone else to use it, but you may.
Time restriction
A right of use can only be transferred for a certain period of time. This period is freely selectable and is determined by the rights holder.
Spatial restriction
In the case of spatial restrictions, the rights holder determines in which country or in which language region you can use an image.
Commercial vs. non-commercial use
Commercial use is excluded from many images. So you are only allowed to use these pictures for private purposes.
As soon as you incorporate an image as part of a process that is subject to profit intent, this would be a violation.
An image that is not allowed for commercial use and that you include in a blog post with affiliate links is prohibited and subject to a warning!
So make sure you have the right usage permit.
Attribution
Many image databases require attribution.
In this case, a reference to the creator and, if necessary, a link to the source must be attached in the immediate vicinity of the image.
Editable or not editable
Many photographers don't want their images to be altered. Accordingly, editing and subsequent publication are prohibited.
Transferable or non-transferable
While the copyright to an image cannot be transferred (exception: inheritance), usage rights can very well be transferred. This happens within the framework of the simple or exclusive right of use that I have already addressed.
Based on these usage rights, a distinction is also made between whether or not you may transfer rights to the image.

Limited to one medium


Many images are restricted to use in specified media. For example, you may be allowed to use the image on your blog, but printing on a t-shirt is prohibited.
5.3 Royalty Managed vs. Royalty-Free
The term "license-free" is often misunderstood.

Royalty-free does not mean that an image is free of any rights. Only that multiple uses is permitted with just one license.

So if you purchase a license-free image from a platform, you can then use it in several projects. For example in your blog, on a flyer, and in an email.

As a rule, stock photos always come with a royalty-free license.

Royalty-managed licenses are the exact opposite. If you acquire an image with such a license, it is precisely defined how, where, when, and for how long you can use this image.


5.4 Creative Commons Licenses
Quite often, you will contact the Creative Commons licenses when it comes to image rights.

Creative Commons is a non-profit organization that supports photographers and other authors in making their works available under the granting of certain usage rights.

The Creative Commons license defines exactly what you can and cannot do with an image.

This is what this note looks like on Wikipedia, for example.

The license agreements have been expanded and refined more and the past few years. The so-called CC version, which ranges from 1.0 to currently 4.0, shows which license a picture falls under.

As a rule, each Creative Commons license notice consists of a hyperlink. one click tells you exactly what is allowed and what is not.

In addition, you will find abbreviations that define exactly which rights the photographer grants you.


6. Dos and Don'ts when using images
Use other people's images without thinking twice 
If you run your blog, you   shouldn't just thoughtlessly use other people's images and incorporate them into your articles.
Images may have numerous rights.
A violation of these rights can lead to expensive warnings or even constitute a criminal offense.
So: No picture of you should be used in a blog post, social media post, or email newsletter without the express consent of the author.
Third parties' rights must also be observed: personal and trademark law, which I have already explained to you.
Put royalty free images thoughtlessly
Royalty-free does not mean that you can simply use an image as you wish.
The term "license-free" means that you can use an image several times for different purposes, which is clearly defined by the author. Individual purposes of use can, therefore, be excluded and prohibited.
Of course, you must also purchase a valid license before you can use the image.


Simply delete the picture after a warning


There may be a day when a warning about an improperly used picture flutters into your mailbox.


First of all: don't panic!


However, it is not enough to simply delete the picture and then assume that everything is fine.


In the context of a warning, fees and costs are also incurred. In addition, a declaration of discontinuance is usually required.


If you are unsure of how to act in this case, you should contact a lawyer.


However, doing nothing and "sitting out" is the wrong solution.
Here you will find answers to frequently asked questions about image databases and image rights:
7.1 What does public domain mean?
The public domain includes images that are free from copyright restrictions. These are usually marked with the abbreviation CC0. It is therefore permitted to use the image in full.

Nevertheless, caution is advised.

Namely, trademark or personal rights could be affected. In addition, copyright protection periods can differ from country to country.


7.2 What is a stock photo?
Stock photos are images that are produced and made available in advance.

So there is no specific client who demands the production of a picture. These pre-produced images are usually sold license-free via online platforms.


7.3 Can I freely use images from Google Search on my blog or website?
No!

Many rights are tied to an image. It is not permitted to simply use other people's pictures without knowing their originator and knowing exactly whether their use is permitted at all.

If you thoughtlessly use images from a Google search, you may commit violations that result in warnings or expensive re-licensing.


7.4 What do I have to consider as a company with image licenses?
Since you, as an entrepreneur, will use images commercially in 99.9 percent of all cases, you should make sure that such a use is also permitted.

Commercial use is excluded from many images.


7.5 Is it possible to integrate image databases in Photoshop or other image processing programs?
Yes, there is.

Many image databases, including Adobe Stock or Shutterstock, offer an interface that enables exactly that.


7.6 Is there a WordPress plugin for integrating images in posts?
Numerous image databases offer
WordPress plugins
that allow you to access WordPress and integrate images in a post directly.
One example is Pexels.
7.7 Which image databases are there from universities, museums, or other public bodies?
University of Heidelberg – Heidicon

Photo library

Europeana – Europe's museums

Prometheus – Art and Cultural Studies

ArtStore – art

Arachne – Archeology (University of Cologne)
7.8 With which software can I create my image database?
The best way to create an offline image database is to use Photoshop or Picasa. 

If you want to provide an online image database in your WordPress blog, I recommend the NextGEN Gallery plugin.


Received your newslatter to stay on top of the latest blog